Well, here we are in the middle of what appears to be a looming, Global pandemic. So, where are you getting your information from? Perhaps more important, what maps, webmaps, and web data (WMS) portals are you consulting for information and updates?
By now we are all familiar with how rapid and rampant information and mis-information speads, particularly via social media. Social streams are cluttered with lots of noise, screaming and shouting, and sadly, plenty of unqualified stories, ideologies, and speculation. Much of the information that is being widely shared has been quickly thrown together, posted, shared, re-shared, and perhaps even gone viral, often without fact-checking or critiquing. Think about the last couple of stories you like or shared. Did you actually read them? I mean read them in their entirety and check out the sources of information? This isn't just restricted to social media. This rapid spread of noise is taking place in the traditional media including, radio, newspapers, TV, and other broadcast medium. 
A recent tweet from Kenneth Field @kennethfield, well known Esri cartographer got me thinking about the state of the coronan virus maps. Field was quick to point out how some of the maps being shared via mainstream media (like the BBC and others) were rather poor. In true Field fashion, he has also taken to blogging a helpful solution for these media outlets who continue to put out product that makes him cringe! As usual, thanks for the great cartography tips Kenneth.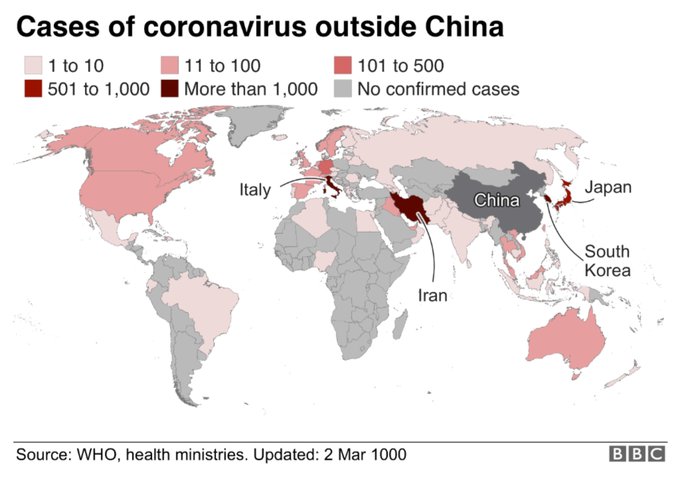 So, this leaves us wondering, where should we look for trusted maps and data that assist us in understanding the spread of the Coronavirus (COVID19)? There are many outlets, both official and unofficial that are sharing regular updates, however, be sure to ask yourself can these data be trusted? The following are a few resources to consider:
Mapping the novel coronavirus outbreak (StoryMap)
This Story Map from the Esri team brings together a number of resources that the team monitors and has selected as being trusted. According to the Story, the data, charts, and maps are updated daily and a number of descriptive aids are shared for the reader, for example, a detailed comparisson of this outbreak to SARS and MERS. Read on in this StoryMap to learn the history of the outbreak and trace the spread over time.
CoronaVirus COVID-19 Dashboard, by Johns Hopkins
This impressive Dashboard put together by the team at John's Hopkins has become a defact go-to resource for many popular media outlets, and for good reason. The dashboard tracks cases around the World, sharing maps, tables, and an interactive dashboard pulling data that is constantly updated. You have to consult this resource! 
This "Hub" was stood up by Esri (I'm assuming it was the Esri Public Health Team) and is also a place where institutions and organizations needing to map, analyze, and share data can get in touch with the Esri team for assistance. This is also a gateway to other maps and apps that Esri partners and customers are deploying. Numerous StoryMaps, featured data products, and regional applications are available here – this is definitely a resource for local government agencies to consult (PS: You may want to keep an eye on King County, WA)
CDC, official Coronavirus COVID-19 Page – This page us updated once a day, on weekdays, and shares US nationwide data and updates on the rate of spread. Tables show a running count of reported cases along with a count of the suspected source if is is believed to have come from outside the USA. A Global map is provided along with related weblinks and links to tips and help resources – overall though, there's not much here. Sadly, in this time of political "instability" and divisiveness, many are suspect or not trusting even these official Government sources – I'll leave it up to you to decide for yourself! 
COVID-19 Canada Hub – @esricanada  Has stood up a #COVIDー19 hub to provide citizens with the latest data, maps & information. Local government are encouraged to connect with them to consider deploying their own local or regional information hub
WHO Health Emergency Dashboard – The World Health Organization (WHO) Health Emergency Dashboard is a platform which aims to share information about public health events and emergencies. The data on the dashboard is refreshed every fifteen (15) minutes and data is accurate as at time of refreshing. The events displayed are a subset of those reported through official channels as mandated by the International Health Regulations (IHR 2005). The content of the WHO Health Emergency Dashboard is for general information only
HERE Developer tracking Coronavirus COVID-19 – This resource from HERE is sharing data from Johns Hopkins and others to provide a nice map interface (using vector tiles) and provides a running tabular list of reported cases by country and city. 
Data from DXY (China) – Running data counts from China with detailed breakdown by region and city. Note, the site also translates to English when using on mobile.
Tracking coronavirus cases in the UK – This dashboard tracks the spread of the virus in the UK – from Public Health England
Create a State-wide Coronavirus (COVID-19) Infographic – States and other agencies are encouraged to create a regional dashboard to share current information, maps, data and more. This article from Esri shares everthing the State GIS manager needs
Coronavirus News Dashboard – This dashboard from Esri Germany continues to update every 15 minutes with the latest Coronavirus related news announcements of interest in Europe
As new resources pop up or I receive tips, they will be added here.
Note, details of this blog post were shared on the GISuser LinkedIn group and have generated much discussion. See HERE
Other suggested Coronavirus COVID-19 Resources: